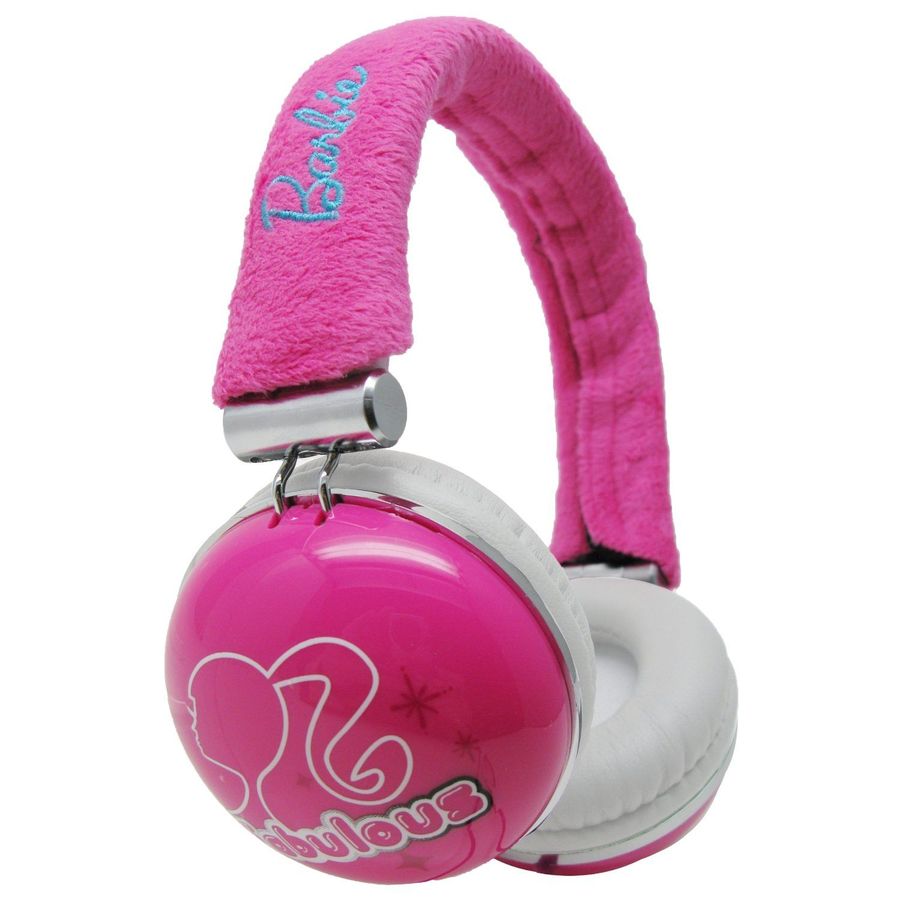 Barbie Headphones model BB26000
Stereo sound
Lightweight
3.5mm jack
2 interchangeable headbands packaging

Product Description
Product Description
It's time to rock! Be at the height of fashion with your newest Barbie accessory and enjoy your favorite tunes in Barbie style! In addition to great stereo sound quality and adjustable headband, these Barbie Fabulous Headphones are stylish as well. Three interchangeable headband covers make it easy to change the look of your headphones to suit your style for the day. Pick between fuzzy pink plush, polka dots design or colorful graphic print!
Product Dimensions: 10 x 6 x 2.5
Recommended Ages: 7 years & Up
From the Manufacturer
Barbie My FabHeadphones let you listen to your favorite tunes in Barbie style. Be at the height of fashion with your newest Barbie accessory. In addition to the great stereo sound quality, the interchangeable bands let you change the look to match your outfit.

Product Information
Product Dimensions 6 x 2.5 x 10 inches
Item Weight 14.4 ounces
Shipping Weight 10.4 ounces
Domestic Shipping This item is also available for shipping to select countries outside the U.S.
International Shipping This item is not eligible for international shipping.
ASIN B004L63YGG
Item model number BB26000
Manufacturer recommended age 36 months – 10 years
Customer Reviews 3.9 out of 5 stars 91 customer reviews
Customer Questions & Answers
Question: Do these headphones have straight on 90 degree bend plug? Thanks.
Answer: Straight (By AmandaH on June 2, 2014)
Question: aside from wire, does it bleutooth connection?
Answer: No it's only a wire headphones (By KB on November 17, 2015)
Question: How long is the cable please?
Answer: Its short 35 Inches (By CindyM on February 13, 2016)
Question: This is compatible with ipads, right?
Answer: Yep! It works with any "normal" headphone jack…my daughter uses hers with her ipod and my iphone, as well as the lap top 🙂 They are really great!!! She got them when she was 4 and they lasted for a long time (a little over a year)…then one ear went out…I liked them so much, I ordered another pair…and they are still going strong. (By Jules on December 22, 2013)
Question: comes with the cable to connect?
Answer: Yes, the cable is included. (By First time mom on December 4, 2014)

Top Customer Reviews
5.0 out of 5 stars  
Rockn' Headphones!!  —  By Jules on December 28, 2011
I got these for my 4 year old daughter for Christmas…she uses them with my old iPod, her leapster explorer,and in our mini van's DVD system! It's so cute to see her 'rock out' as she calls it. The sound quality is excellent! I'm truly impressed…and that's saying something, b/c i almost always find at least one flaw! They fit her beautifully, no slipping off, even with her thrashing around dance styles! 🙂 They fit me, my husband, and nearly fit our 2 year old! So, an excellent product!
5.0 out of 5 stars
Love these headphones  —  By Lily on November 12, 2011
These headphones are for kids but since I love Barbie I bought these for myself. I was really surprised at the sound quality! Feels like a party in my head. They don't feel flimsy the way most headphones feel. I use these headphones while I work on the computer. Another awesome thing is that is comes with 3 interchangeable headband covers. For the price, it is well worth every dollar.
5.0 out of 5 stars
Must Have!  —  By Brenda McEntire on December 21, 2011
I bought this for my 4 yr old daughter. She just got the Kindle Fire for Christmas and loves the volume on there…lol
So in order for me to have a conversations with her father with out the constant volume war…I gave into the idea of headphones.
She is in Love with headphone. This is one of the best 10 dollars I have yet to have spent. She is learning and exploring and I am enjoying the quite time in between 🙂