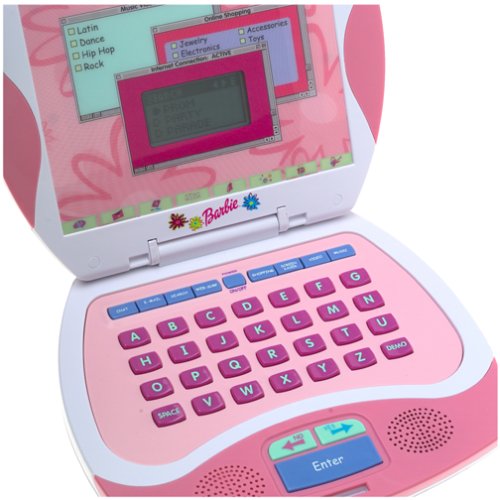 Barbie Online Laptop
Chat, E-Mail, Search, Web-Surf, Shopping, Screen Saver, Video & Music
On/Off switch-Requires 3 "AA" Batteries
Hi/Medium/Low Volume switch
Reset button
Connect to Home Computer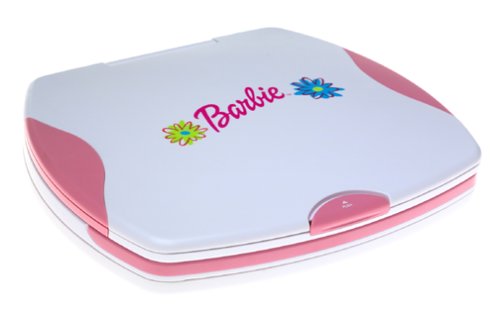 Product Details
Product Dimensions 14 x 12 x 3 inches
Item Weight 3.1 pounds
Shipping Weight 3.1 pounds
ASIN B00009K7AB
Item model number 410BE184
Best Sellers Rank #1,173,330 in Toys & Games
Customer Reviews 3.3 out of 5 stars 13 customer reviews
Product Description
Barbie Online Laptop she can take anywhere & connect to home/office computer. Built-in speakers, keypad with an assortment of great options from chat, e-mail & web-search to shopping, screen saver, music & video! Great interactive fun! Requires 3-"AA" batteries-not included.
The Barbie pretend online laptop is an interactive toy that offers pretend versions of all the coolest high-tech activities. Kids can personalize their display with their information, then pretend to go online for some surfing excitement! girls can pretend to chat, send e-mail, go shopping, check the news, play cool tunes..they'll never want to log off.


Customer Reviews
3.3 out of 5 stars 13
Top Customer Reviews
4.0 out of 5 stars
Great first laptop for toddlers ——By E.K. (February 25, 2006)
We have a 2-year old who is always wanting to play with our laptops so she's obviously fallen in love with this toy. It's a great first laptop that she can call her own. I don't know if there's any educational value at this point since she's just mashing the buttons and copying what we do, but I guess that's valuable in it's own way.

Some things to consider:

1) A little difficult to open but that might be because she's younger than the recommended age and just doesn't have the proper motor skills yet.

2) Actual screen is very small. If you're looking at the image of the laptop, the LCD portion is the black square–the rest is just a static graphic. The 8 tabs along the bottom of the screen light up when you hit the appropriate buttons. I can understand the mixed makeup of the screen, but the LCD portion really could've been bigger.

3) The name of the toy should be "Barbie Chat With Me Laptop" since it doesn't connect online but rather just simulates the experience. Why even include the word "Online"? I can see a bunch of marketing folks arguing with their copywriters (if they even have them!) that the world "online" will snare consumers into buying the product. It probably works, but it's definitely a little deceptive.

I can see how older kids may be disappointed since they can probably discern some of the obvious differences between this and daddy's laptop, especially with the screen, but your child's enjoyment of this toy may also depend on how early he/she has been exposed to laptops and computers in general. In our household, it's probably a good 4-years-or-younger toy.

2.0 out of 5 stars
Chat with me Laptop——By A Customer (March 21, 2004)
I really think that the screen could be bigger. you have to hold the laptop different ways before to can see the writing on the screen. Very hard for little girls to work with.
5.0 out of 5 stars
Great for your kindergartener——By Love2Laf (October 27, 2003)
My 5-year old daughter loves to play online at barbie.com, but is frustrated that she doesn't have more opportunity to use our real computer. This keeps her busy and she LOVES it. It's her very own, and she feels so grown up using it, and of course it is BARBIE!